Aspetti organizzativi in Maxiemergenze: il Triage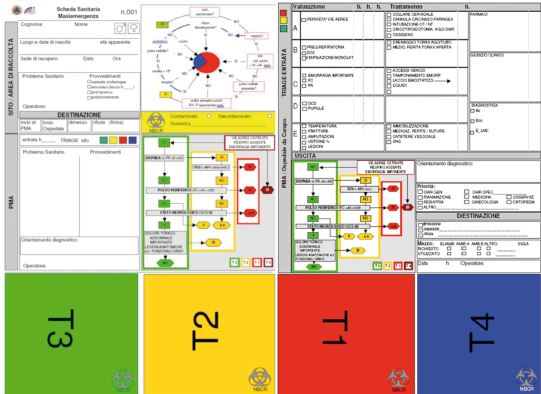 Mass casualty is defined as the condition in which there is a mismatch between requirements and resources available.
By organizational perspective, the critical issue is the rational use of available resources, in order to ensure the best treatment to the victims: the triage procedure is one of the main factors involved in this process. Mass casualty triage shows peculiar aspects related to the need of having to quickly and adequately assist the largest number of casualties. In Italy a law was enacted in 2007 to obtain uniformity of behavior: in particular, it pointed out features of the Mass Casualty Card.
In the article we analyze Mass Casualty Card developed from Italian NGO ARES in collaboration with the Italian Civil Protection and used in numerous international relief missions , as part of the European Civil Protection Mechanism. It shows two schemes of triage: START triage, used at the site and SMART triage , used in field hospitals ( AMP level I and II , LFH ). We describe also the triage CESIRA used by Italian Red Cross.
La parola triage deriva dal francese "trier" che significa smistare.
La prima descrizione dell'applicazione di una selezione dei pazienti risale alle guerre napoleoniche, quando il capo chirurgo dell'ospedale da campo dell'armata francese, il barone Jean Dominique Larrey, organizzò i primi soccorsi ai soldati feriti sul campo scegliendo di soccorrere per primi quelli che avevano subito lesioni meno gravi ed erano, quindi, più rapidamente recuperabili per la battaglia.
Nelle epoche successive la pratica del triage si diffuse inizialmente in ambito militare, con caratteristiche sempre più evolute e perfezionate, e in un secondo momento anche in ambito civile.