Codice rosso nel trauma con dinamica maggiore: migliore gestione in urgenza o rischio di overtriage?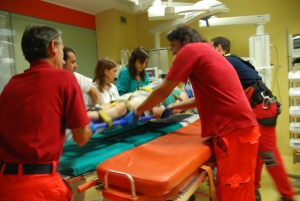 Introduzione: nell'ambito dell'emergenza traumatologica, l'attribuzione del codice rosso indica una situazione che potenzialmente espone il paziente a pericolo di vita imminente e che necessita di trattamento immediato. Nel nostro Dipartimento di Emergenza il codice rosso è stato assegnato sulla base della dinamica maggiore, anche in assenza di evidente criticità dei parametri clinici, in via sperimentale, in un periodo di osservazione dal 1 Gennaio 2010 al 31 Dicembre 2011.
L'obiettivo di questo studio è stato quello di valutare se tale procedura generasse overtriage o vantaggio per il paziente.
Metodi: è stata condotta un'analisi retrospettiva di 191 pazienti ammessi per due anni consecutivi nel nostro Dipartimento di Emergenza per trauma, con codice rosso di triage; in 51 pazienti il codice rosso è stato assegnato per sola dinamica maggiore.
Risultati: solo nel 33,3% dei pazienti con codice rosso per dinamica maggiore vi è stato overtriage; nel restante 66,7% dei casi tale criterio di assegnazione di codice rosso ha permesso di trattare prontamente con cure intensive di emergenza pazienti che si sono rivelati critici, nonostante l'iniziale stabilità dei parametri clinici.
Conclusioni: dal nostro studio emerge che l'attribuzione del codice rosso per dinamica maggiore permette una migliore gestione dei pazienti traumatizzati.
Background: inground: in trauma patients the red tag triage denotes life-threatening injuries that require immediate medical attention. Additionally, in our Emergency Department, red tag is also given according to the mechanism of injury, even without an evident life-threatening conditions.

The aim of this study was to evaluate the overtriage rate among these patients.
Methods: we performed a retrospective analysis of 191 patients admitted for two years to our Emergency Department for trauma, red tag triaged; in 51 patients red tag was given only for the mechanism of injury.
Results: only 33,3% of patients with red tag for mechanism of injury risulted overtriaged. The remaining 66,7%, according to clinical evaluation, were found in critical conditions and attended to with emergency intensive care.
Conclusion: red tag triage for mechanism of injury has enabled better management of trauma patients.